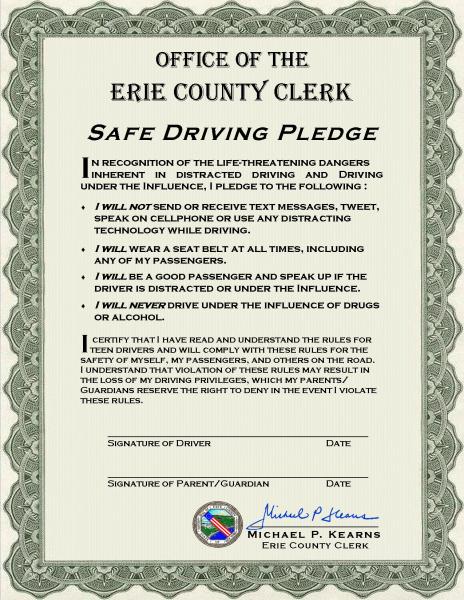 Dear Motorists,
The Erie County Auto Bureau is asking drivers of all ages, especially young motorists to keep both hands on the wheel and to take part in our "JUST DRIVE" movement and remind you we are now entering the "100 Deadliest Days of Summer."
As the County Clerk's Office is responsible for the administration of local auto bureaus which issue all drivers' licenses. We and the entire staff encourage all drivers to take the Safe Driving/No-Texting Pledge and then share it with their friends and family.
This pledge, which can be found at any of the Erie County Auto Bureaus or clicking the link above, is signed by the parent and their teen driver, and states that while driving the teen will not send or receive text messages or use handheld electronic devices. It ensures that the teen understands that if he/she violates any of the rules, it may result in the loss of driving privileges which you reserve the right to deny.
Just look at some of the facts:
In a recent study by the National Safety Council, more than 100,000 crashes a year involve drivers who are texting, causing life-changing injury and death; and according to Virginia Tech Transportation Institute Research, texting drivers are 23 times more likely to be in an accident.
We also encourage all parents to sign and adhere to their own pledge and be a positive example to all your drivers.
A more disturbing fact, based on a survey conducted by AT&T Wireless, is that 77 percent of teens have seen their parent's text and drive. We need to continually educate the public that texting and driving is not only dangerous and has costly consequences, but it is against the law.
For additional information on the Erie County Clerk's "Safe Driving/No-Texting Pledge," please contact our Outreach Center at 858-8864 or by e-mail at ErieCountyClerkOffice@erie.gov.
~MICHAEL P. KEARNS, Erie County Clerk 
Teen Driver
The Graduated License Law and Restrictions for Drivers under 18
Teen Driver Rules
New forms: