THE GENERAL PROSECUTIONS DIVISION
Most cases, whether misdemeanors or felonies, are investigated and prosecuted by the bureaus comprising the General Prosecutions Division. A brief description of each bureau's responsibilities is as follows.
THE SPECIALIZED PROSECUTIONS DIVISION
 Cases not assigned to the prosecutors in the General Prosecution Division are assigned to the prosecutors in the three Bureaus comprising the Special Prosecution Division. Prosecutors and support staff assigned to the Special Investigations and Prosecution Bureau investigate and prosecute crimes that require significant investments in time and/or specialized knowledge in financial transactions. Prosecutors and support staff assigned to the Special Victim's Bureau specialize in the investigation and prosecution of sex crimes and child abuse. Prosecutors and support staff assigned to the Homicide Bureau specialize in the investigation and prosecution of homicides.
THE PROSECUTION SUPPORT SERVICES DIVISION
As suggested by its name, those assigned to the Prosecution Support Services Division provide the necessary non-legal and quasi-legal services that support our chief mission: the just prosecution criminals.
Crime victims, the families of crime victims and many witnesses are often traumatized, frightened, reluctant and/or ignorant of the mechanics of the criminal justice system. Prosecutors assigned to the various bureaus are chiefly responsible for the prosecution of offenders. Advocates assigned to the Victim/Witness Bureau are responsible for helping victims and witnesses and arranging for their protection and relocation when necessary. Victim/Witness advocates respond to the Erie County Medical Center (ECMC) 24 hours per day, seven days per week, to assist victims of violent crimes and their families. Our advocates encounter approximately 300 shooting and stabbing victims at ECMC each year. Advocates also work closely with domestic violence victims, sexual assault victims and the family members of homicide victims.
Many cases, regardless of Bureau assignment, require additional investigation. Confidential Criminal Investigators and paralegals provide these services. Most investigators are retired detectives with at least 20 years of investigation experience. Their duties include surveillance, interviewing witnesses, securing additional evidence, serving subpoenas and transporting witnesses to court.
The Erie County District Attorney's Office is the busiest law "firm" in Western New York. Additional support staff provides the necessary secretarial, information management and accounting services necessary to operate a law firm. Our secretary to attorney ratio is competitive with, and in most cases significantly less, than that found in similarly sized law firms. Members of support staff aggressively search for, secure, and monitor grants from other state and federal sources, thus lessening the burden to the county taxpayer.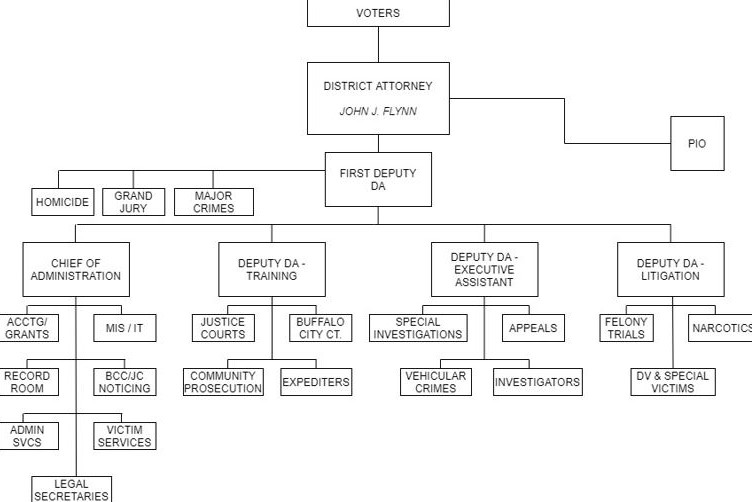 Changed
02/23/2023 - 3:15 pm