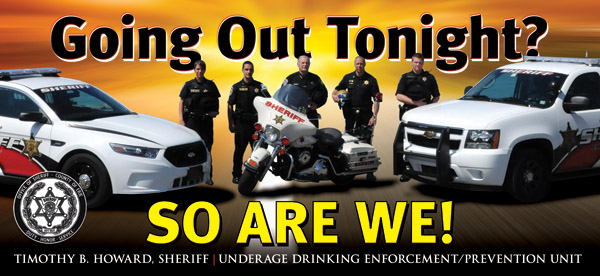 The Erie County Sheriff's Office Underage Drinking Prevention Unit is overseen by the Erie County Sheriff's Office "Public Awareness is Prevention" program funded by the New York State Office of Alcohol and Substance Abuse.
Our Vision
Systematically altering the impact  Underage Drinking has on families in Erie County, one person at a time using environmental prevention strategies.
Our Mission Statement
The Erie County Underage Drinking Enforcement/ Prevention Unit  representing diverse community interests, working collaboratively to take a systematic, action-oriented approach to positively alter underage drinking in  Erie County. We seek to change awareness, attitudes, and behaviors through ensuring access for youths and adults, to a comprehensive array of education, prevention, treatment, aftercare, and recovery resources. This unit will also alert parents of the consequences of serving alcohol to underage youth.
Goals
In keeping with the Sheriff's Office mission, this unit will address goals that include both internal (Coalition) and external (community) goals.
External goals of the include:
Decreasing underage drinking and the effects of underage drinking in the community
Increasing community recognition and willingness to deal with the dynamics of the underage drinking problems
Internal goals of the include:
Facilitating and sustaining a healthy, diverse collaboration among agencies and organizations to address substance abuse issues
Increasing and maintaining diversity among Coalition members.
Objectives
The Unit has identified the following objectives:
Decrease underage drinking, including age of onset, frequency of use, and perception of use by peers
Decrease illegal and other drug use among community members
Create a sustainability plan for Underage Enforcement Prevention Unit.
Enhance and sustain a collaboration to accomplish the above mentioned objectives.