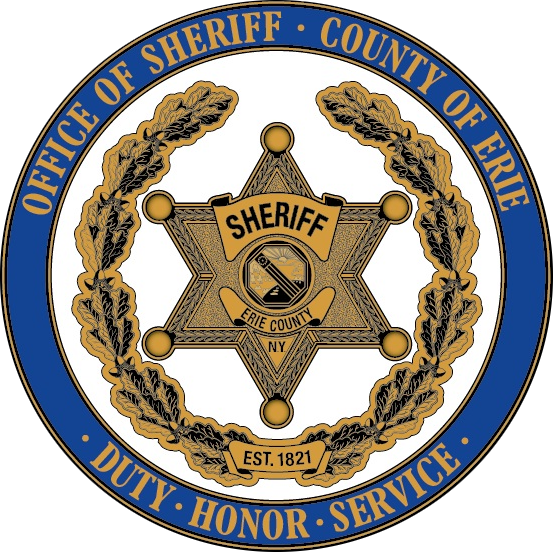 Welcome to the Erie County Sheriff's Office community outreach, and substance abuse prevention page. The Erie County Sheriff's Office has been partnered with WNY United for over 35 years. Together we focus on Drug/Alcohol abuse prevention in a multitude of ways.
The Erie County Sheriff's Office is very committed in providing all civilians with the knowledge and tools to keep our communities safe and informed. We have several links listed below that explain a little about each program we provide. We are also very flexible and have a wide range of material, so if there is something you are looking for that is not on this list,
Alcohol Compliance

TIPS Training is now offered to you by the Erie County Sheriff's Office

TIPS (Training for Intervention Procedures) - is a dynamic skills-based training program designed to prevent alcohol abuse, drunk driving, and underage drinking by enhancing the fundamental "people skills" of servers, sellers, and consumers of alcohol. TIPS provide the knowledge and confidence individuals need to recognize potential alcohol-related problems, and effectively intervene to prevent alcohol-related tragedies.  Listed below are the two different services offered along with some of the benefits this program can have on your business:

Tips Training- Is a free 1-2 hour training session to help educate your non-certified employees.

Tips Certification- Is a 3-4 hour certification session, which upon passing will certify employees for 3 years. This is offered at a reduced rate of $20/employee vs. the typical $40- $50 charge.

Legal Protection

In liquor liability lawsuits, TIPS provides a "reasonable efforts" defense.
TIPS training satisfies requirements in nearly all states that have mandatory or voluntary server training laws.
TIPS training provides a means of mitigating ABC violations, often resulting in lowered fines and a waiver of license suspensions.

Insurance Benefits

Many insurance companies provide discounts to establishments whose employees are TIPS certified.
TIPS training satisfies the server training requirements set forth by insurance companies.

Additional Benefits

TIPS training results in added professionalism and improved customer service.
TIPS is proven to be a practical and effective method of reducing drunk driving and underage drinking.

TIPS training provides a common language for staff to use in assessing and handling alcohol-related incidents in their establishments.

For more information or to schedule training, please call Deputy Daniel Wood at 716.440.9558.

Community Services

Information coming soon.

Operation Safe Child

Operation SAFE CHILD was created in July 2005 to raise awareness about child safety. Through a historic partnership with the New York State Police, New York City Police Department, New York State Sheriffs' Association, and the New York State Association of Chiefs of Police, the Division of Criminal Justice Services and its Missing and Exploited Children Clearinghouse has expanded Operation SAFE CHILD.

Know your Child's Information by Obtaining a SAFE CHILD card

Statistics show that 34 percent of parents in the United States do not know their child's exact height, weight, and eye color. And, when a child is reported missing, time can be the greatest adversary. Possessing up-to-date photographs and detailed information about a child can prove to be important proactive measures that can greatly assist local law enforcement officials to quickly respond to a child's disappearance.

Using equipment that contains the latest digital fingerprinting technology and high-resolution photography capabilities, the Erie County Sheriff's Office is able to produce a SAFE CHILD card for parents and guardians.

The cards contain a child's name, biographical information (date of birth, gender, height, weight, hair color, eye color, etc.), and a fingerprint image of both index fingers. The card can be made in less than two minutes and can be easily carried in a wallet or pocketbook. Interested parents can choose to store the fingerprints, basic biographical information, and photographs of children who are not missing -- information critical to expediting the return of a missing child. The storage of information is entirely voluntary and requires the written consent of a parent or legal guardian. The information gathered is digitally recorded and stored in a database at the Division of Criminal Justice Services (DCJS) in Albany. In the event DCJS receives a missing child report, the fingerprints of that child will be included in a special search file and compared against all incoming fingerprints submitted to the agency.

In addition to being able to quickly provide important details to police agencies investigating child disappearances, the New York State Sheriff Association SAFE CHILD Card will serve as an important tool when used in conjunction with the New York State AMBER Alert and Missing Child Alert programs. These cards will allow essential missing child information to be electronically disseminated, statewide if necessary, within minutes and dramatically increase the possibility of bringing a missing child home unharmed.

Yellow Dot/Senior Safety

The Yellow Dot Program is a free program designed to help first responders provide life-saving medical attention during that first "golden hour" after a crash or other emergency. The yellow Dot Kit can be used for your vehicle and/or place of residence. The Sheriff's Office offers a free presentation to explain in detail on how this program works, and provides each participant with all materials needed to participate in the program.
Changed
06/28/2022 - 10:06 am