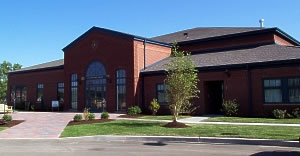 Clarence Public Library
3 Town Place
Clarence, NY 14031
(716) 741-2650
Monica Mooney, Director
Located on Old Goodrich next to Town Hall.
For more information and library events, visit the Buffalo and Erie County Library System's website.
Library Hours
Monday: 10:00AM - 9:00PM
Tuesday: 10:00AM - 9:00PM
Wednesday: 10:00AM - 6:00PM
Thursday: 10:00AM - 9:00PM
Friday: 10:00AM - 5:00PM
Saturday: 10:00AM - 5:00PM
The Library is closed on Sunday.
What's Special About the Clarence Library?
Wheelchair accessible
Parking lot available
Drop box available
Public Access Computers: 9 Gateways, networked (printing 10 cents per page) Microsoft Office Applications, Internet Access, Misc.
Meeting Room
Copy machine, copies 15 cents each
Aladdin Reader for the visually handicapped
The new library opened September 10, 2001, and is one of the largest community libraries in the Buffalo & Erie County Public Library System. It has an extensive collection of large print and audio books for youth, as well as an excellent Reference Collection. A special toddler and preschooler area promotes reading with parents. Adults have a relaxing area in which to read newspapers and magazines. The Clarence Library is well known for the variety of Summer events and programs for children and their families. Situated in a park-like setting, the library affords many new opportunities to its community and is a state of the art library for both adults and children.
Changed
07/14/2023 - 12:02 pm