Clarence Senior Center
4600 Thompson Road
Clarence, NY 14031
(716) 633-5138
Fax: (716)406-2604
email: contact@clarenceseniorcenter.org
Contacts
Lori Adams, Board Chair Person
Heather Kraemer, Executive Director
The mission of Clarence Senior Citizens Inc. is to provide social, recreational, educational, and nutritional programs, as well as opportunities for volunteerism, to persons in the community who are fifty five and older.
The Center is open Monday, Wednesday, Thursday and Friday from 9:00 a.m. to 4:00 p.m. and Tuesday from 9:00 a.m. to 8:30 p.m. Bus transportation, within Town boundaries, is available to and from the Center Monday through Friday and from the Center to area shopping centers four days each week.
Yearly membership dues are $10 for a Clarence Resident and $15 for a Non-Clarence Resident. New Member Welcome meetings, held monthly, will serve to acquaint and orient new members and those who are interested in becoming a member.
The Silver Streak, a mailed, monthly newsletter provides ongoing information regarding programs and activities is also available online at www.clarenceseniorcenter.org.
TRANSPORTATION SERVICES:
Available to Clarence Residents 60 and older: Erie County Dept. of Senior Services
10/21/16-Town of Clarence and Town of Newstead receive a new Going Places Van from Erie County. (The Van is shared by both Towns).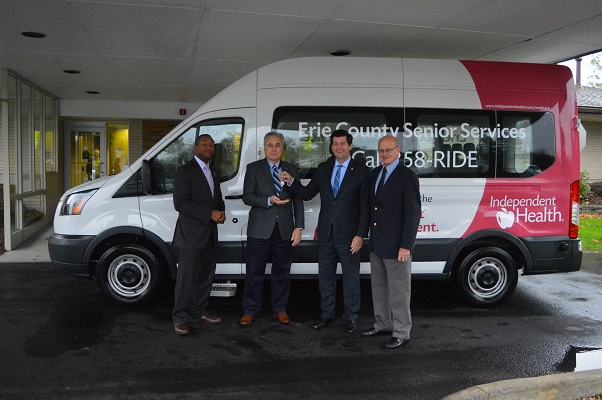 GOING PLACES VAN TRANSPORTATION SERVICE
Do you have places to go, people to see, groceries to purchase, or appointments to keep? If you are age 60 or older, please call 858-RIDE (858-7433) between 8:30 a.m. - 4:30 p.m. Monday thru Friday to arrange a ride with - The Erie County Going Places Van.
Your curb-to-curb service is just a phone call away. The cost is a confidential, voluntary contribution; suggested contribution is $2.00 per one-way trip or $4.00 round-trip.
Priorities for Van Services: Health Related, Food & Nutrition, Personal Business and Social Activities.
Rural Transit Van - This is available Monday - Friday. Call 565-3323 to schedule an appointment. Please leave a message and they will return your call.  For more information on Rural Transit visit their website.
Hearts & Hands - for information visit their website:
Senior Living Help Information:  https://www.seniorlivinghelp.org/assisted-living/new-york/
Changed
07/14/2023 - 12:21 pm