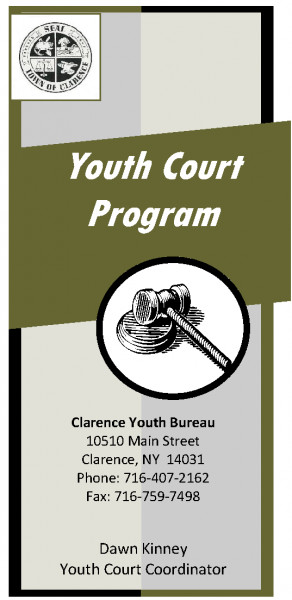 The Town of Clarence Youth Court Program was established in late 2013.  Through a collaborative effort between the Clarence Youth Bureau, Clarence School District, Clarence Town Court, Erie County Sheriff's Department and the NYS Troopers, multiple opportunities are provided for members and respondents to develop leadership skills and serve as peer leaders in their schools and communities through trainings, hearings, and community service activities.
Youth Court is a voluntary alternative to the criminal justice system for young people who face disciplinary action through school or law enforcement..  Youth who admit to the charge appear for a sentencing hearing before a court of his/her peers.  The goal of Youth Court is to intervene in early anti-social, delinquent and criminal behavior, and to reduce the incidence and prevent the escalation of such behavior.  Youth Court proceedings involve an offender, and high school youth members in the roles of judge, prosecutor, defender, and clerk/bailiff.
For those interested in becoming a Youth Court member, please complete the Youth Court Application and mail or drop off at the Clarence Youth Bureau, 10510 Main Street, Clarence, NY  14031.
Changed
07/26/2023 - 9:30 am