Erie County Senior Services' UNIVERSITY EXPRESS presents... "THE BOOK CLUB!"
Book Club
Erie County Senior Services
"A book is a dream you hold in your hands"
Our mission is simple - we want to read books that move us to think, open our minds, and lead us into interesting and important conversations. We also want to read stories so exciting they make us want to talk about them all the time. Unfortunately, most of the time the people around us aren't reading the same book. That's what The Book Club is for!
If you're an avid reader who loves to talk (or just learn) about books, The Book Club is for you. If you're looking for something to do or you've always wanted to read more, The Book Club is for you. In fact, it's for anyone and everyone who wants to join us! You can choose to share your insights with other readers or sit back and listen to gain other perspectives and deeper connections to each book. You can make new friends too! Even better, you can do all this from the comfort of your own home.
The next meeting of The Book Club will take place on Friday, September 15 at 10:30 am. It will be in-person at the Clarence Library Meeting Room, 3 Town Place, Clarence 14301. There is also a virtual option for people who are unable to do in-person.
Our own book-lover-in-chief, Erie County Senior Services Commissioner Angela Marinucci, is a proud mom to three daughters, aged 5, 7 and 8, and is super passionate about public service and making the world an even better place! She enjoys endurance running, traveling, reading, and exploring Erie County with her husband and daughters.
Book Clubs are a fantastic way to discuss your favorite books with other readers, reignite your passion for literature, and make some new friends along the way. We hope you'll join us on our new adventure!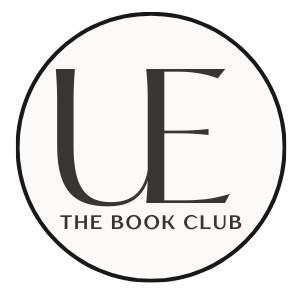 THE BOOK CLUB FACTS!
Sign up is simple. Log onto UE at erie.gov/universityexpress/. Click on The Book Club and fill out a simple form with your email address. Participate as much (or little) as you like.
Our group will meet virtually each month, with each book we read discussed for two months. We will meet halfway through each book, and then again at the end of the story.
You will receive the name of the book we are reading with a short summary two weeks prior to our meeting.
We are committed to bringing new and exciting hosts for each bi-monthly meeting, when possible. Submit your questions to a dedicated email address throughout the month. The most thought-provoking topics will be brought up for discussion at our meetings.
On occasion, we may choose to also meet at a local bookstore or library. Classes will still be broadcast virtually during those times.
There's not a specific system we use to choose our books. We are always open to suggestions and encourage your input on books you would like to read! We make thoughtful choices that will hopefully deepen your understanding of each book, author, and/or yourself.
Please invite your friends! Share what you're reading - tag us @uethebookclub!