Virtual Septic System Workshop scheduled for Tuesday, September 27, 2022 at 7:00 PM. Attendees are eligible for door prizes, as well as a $30 rebate on a septic system pump out until program funds run out!
Register now at: https://erie.webex.com/erie/j.php?RGID=r0a305d5f899628f2c5ed1d9d1f180018
Attendees will learn how septic systems work, how to properly maintain them to keep them working well, and why it is important to keep your system maintained to protect our streams and drinking water wells.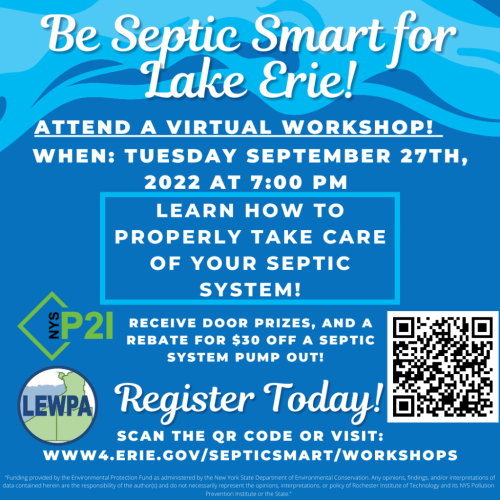 Under this project, LEWPA is also planning in-person septic system maintenance workshops for Cattaraugus, Chautauqua, and Erie county locations. Attendees will learn how to maintain their system and will be eligible for prizes and rebates on system pump-outs. Check back for updates throughout 2022.
In the meantime, check out this video on what not to flush: